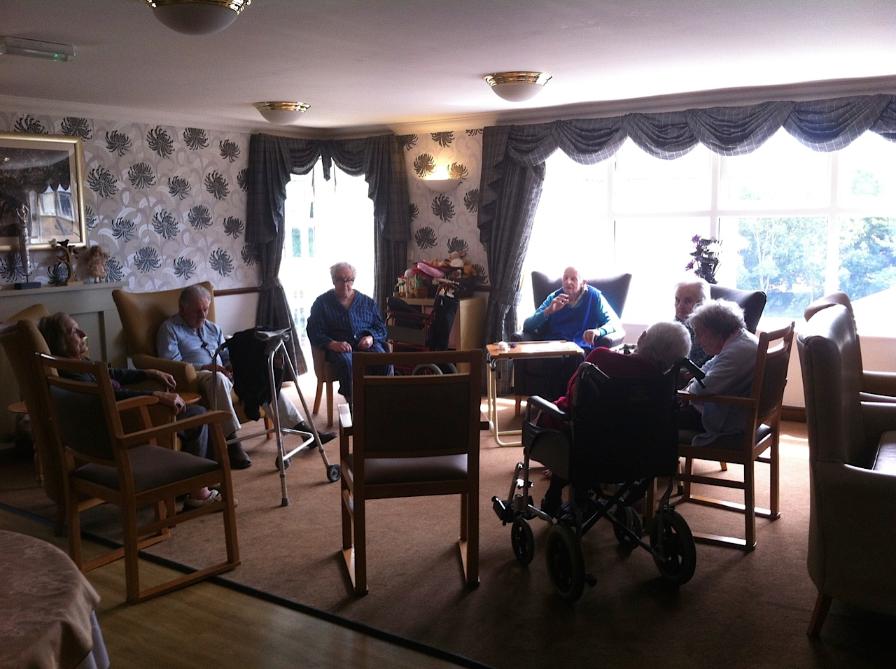 Bramley court Care Home, Histon
I currently work in the Bramley Salon treating residents, staff and visitors two half days a week. I also offer one to one for the needy and end of life care. I have worked at Bramley court since 2015.
Cambridge Manor care Home, Milton Rd, Cambridge

Ground floor living room with views over the garden and access to abundant lavender, sage and mint plants
On average around 15 clients attend the session, the majority wheelchair bound, about 10 regulars and some try it out or are visiting the home for respite.
I introduce 3 or more essential oils each time taking in either a bit of the plant, flower, fruit or a picture. I talk about each oil and the plant it has come from asking about if anyone has visited the country where it grows or if they have used it in cooking etc. I take some time to find their reactions to the aroma as a tissue is passed around. Some guess well, others recognise but cannot put a name to it.
I take note of favourite oils - so far, lavender, bergamot, geranium, lemon balm, mandarin, lemon, have been the most popular. Also tea tree, eucalyptus, frankincense,
I have created a blend with the 3 chosen oils and made blends to uplift, stimulate the mind, relax, boost the immune system, decongest, warm the muscles. The blends are made with either and oil base or a cream base. Music is put on and I place a blob in each persons hands to rub in. They either do their own, someone close to them or I massage their hands if they are not able.
Blends -
lavender, melissa, bergamot, geranium - very soft and gentle
peppermint, lemon, lime, jasmine, vetiver - little bit sickly
spearmint, eucalyptus, grapefruit - very nice, subtle, sweet, uplifting
Sweet marjoram, rosemary, black pepper - muscle blend - warm and spicy
neroli, mandarin, black pepper - Warming and uplifting
Rose, vanilla, Bergamot, geranium, - very soft and comforting (may have had rose geranium)
Frankinsence, eucalyptus, tea tree, ginger, lemon - protection, breathe well.
I sometimes also read a meaningful quote or poem at the end of the session. When I took in some riddles many loved them and it really stimulated some of their minds.
Sept 20th
Clients liked the riddle about wine - what is sweet when young, gives you pleasure when middle aged and very valuable when old!
I used a blend of Neroli, black pepper and mandarin today in sesame and facial oil base oil. One lady asked if I would put some on some sore dry skin beside her eye where her glasses sit. I did. She said as i applied it and then massaged her hands that she was in the clouds, and that it was really lovely. I had some lovely chats with a couple of the ladies and am starting to notice friendship groups which I would like to harness more when I encourage them to give hand massages to one another. The black pepper provoked strong responses with 3/10 really liking it. I also used a Neroli water room spray which I placed on their hands and at the end over their heads. The ones that wanted it really enjoyed it - refreshing and cleansing at the same time. I talked about harvest festival and we shared a mandarin 8/10 enjoying 1-2 segments each.
Peppermint is sometimes a bit too stimulating - spearmint of softer
Bramley's care Home, Histon, Carebase
Alternate Thursdays one group session from 2.15- 3.15 and another 2 hours of 20 minute one on one sessions either in the clients rooms or in the sensory room.
During these group sessions the staff and activity co-ordinator join in and help massage the clients too.
Sept 2012
I had a lovely one on one session with a lady who often liked being on her own. She found the positive touch brought up emotions for her as she had not experienced any touch like this for a long time. As I held her hand and advised her to breathe she calmed down and enjoyed the session. We talked about family.
I also massaged the hands of and gave reiki to a man with altzeimers reaching the end of his life. His energy was racing slightly and with reiki I managed to steady it. I talked at length to his daughter who explained she had had to say goodbye to her father a long time ago, and yet she was there still caring and loving him. I was later told he passed away peacefully a few days after our meeting. Blessed be.
Had a really good chat to a client who was really worked up, we talked all about community politics, he was hot and driven and wished he could sort it all out. I had a good connection with him and then I massaged his hands and he settled a bit.
October 2012
Bramleys have requested 3 bottles of lotion to integrate into their one to one care.
calm - Vetiver, lemon balm, Benzoin, Neroli
comfort - Vanilla, Rose geranium, bergamot, Rose
uplift - Spearmint, Grapefruit, Eucalyptus, Mandarin
BUPA Chesterton Care Home,
I visit monthly since 2013. I run group sessions in the living room down stairs. The residents respond differently. Some cannot smell but enjoy the massage, several love certain oils and inhale much more deeply when they are passing them round. Some oils provoke a distasteful response such as "yuk" . These oils are often strong ones such as chamomile, Vetiver, Basil - often though there will be at least one person who loves these oils. Everyone is an individual with individual favours.
I took in the tibetan prayer bells and they were very popular. Next time I will take in a singing bowl. When I took in the didgeridoo it was very popular and evoked a very excitable response in several residents - happily excited that it!
The guided visualisation works well if I do not have someone inter putting or adding their own phrases! I try to work with this but find it harder to do so.
We imagined a channel of light, their favourite colour, opening and pouring and spirally into their heads and gradually filling up their bodies today. I had picked up that the room was "heady" as I had got a headache upon being there for 10 minutes. After the guided visualisation the heady energy had cleared and the atmosphere was calm and lighter. I used rose, bergamot and benzoin today - a gentle sweet aroma.
Waterbeach Lodge
I ran a few successful sessions here until the activity coordinator left.
RESEARCH
An action research project published in Complementary Therapies in Clinical Practice looked at the potential benefits of diffused lavender (Lavandula angustifolia) for dementia patients experiencing anxiety and disturbed sleep patterns. The results show that the nurses perceived lavender to have an overall good effect but more research is called for to determine how smell can enhance dementia care.
People with dementia often suffer from disturbed sleep, anxiety and restlessness, with these symptoms typically increasing with age and condition severity.
Some studies suggest that aromatherapy can be useful in supporting people with dementia, however there is little research and data supporting its efficacy at present.
A project* carried out in Norway aimed to gain an insight into the experiences of nurses who volunteered to incorporate aromatherapy into their routine care of dementia patients with anxiety and disturbed sleep patterns.
An action research method was chosen, due to the limited experience in Norwegian nursing homes in using aromatherapy. Action research involves making relevant knowledge and skills available (ie. about the use and benefits of essential oils), then allowing people (the nurses and dementia patients) to actively participate in an organisational change (the aromatherapy intervention) while simultaneously carrying out research.
Four nursing homes agreed to participate, with 12 nurses and 24 patients suffering from anxiety and disturbed sleep patterns taking part in the action research. Disturbed sleep patterns included walking around at night, frequent calling for staff, and being tired and sleeping during the day.
Twelve to fifteen drops of Lavandula angustifolia were placed into a fan diffuser at a certain time each evening, with the night nurses regularly checking the diffusers and reporting on the patients' sleep patterns. The procedure was repeated every night over a three month period. Day staff also monitored patients' behaviour, in terms of anxiety, alertness and mood.
The results indicated that the nurses' perceived a positive effect of the lavender on the majority of patients, with a 'good/very good' effect reported for 40 per cent (10/24) of patients, and a 'fairly good' effect for 33.3 per cent (8/24). 'Unclear /vague' and 'no effects' were reported for the remaining 23 per cent (6/24).
Nurses on night shift observed that fewer patients wandered or were troubled, and several slept well, while nurses on morning duty reported that the patients were more alert and their mood improved.
Nurses also observed a reduction in the need for medication/sleeping pills in a number of patients.
In addition, it was noted that when the project came to an end, in all four of the nursing homes that took part, there were requests for lavender from the night nurses because patients had 'gone back to old habits'. Many also queried why they had not been taught about essential oils as part of their nursing education.
The author calls for further research to study how smell can enhance dementia care, stating 'In collaboration with physicians and aromatherapists, the use of aromatherapy in nursing care should be examined more closely. There is also a need to study how smell affects nurses when using aromatic oils in care.' The need for nurses to learn more about aromatherapy and CAM was also highlighted.
*Published in Complementary Therapies in Clinical Practice:
Johannessen B. Nurses experience of aromatherapy use with dementia patients experiencing disturbed sleep patterns. An action research project, Complementary Therapies in Clinical Practice 19(4): 209-213. Abstract available at: http://www.ctcpjournal.com/article/S1744-3881%2813%2900046-7/abstract
06-Feb-2014