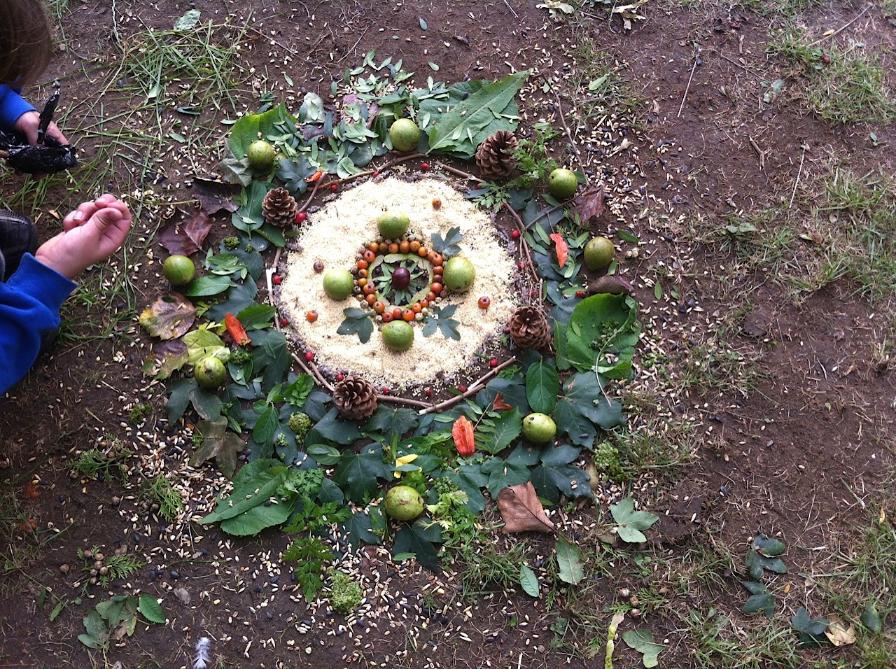 Mayfield school, Golden Time, Conservation in the nature reserve. For the school website follow: "http://mayfieldcambridge.org/?page_id=1013"
Every Friday afternoon up to 18 juniors age 7-11 meet in the small nature reserve within the school grounds to take part in nature explorer activities.
The nature reserve has about 25 trees including Silver birch, many Blackthorn, a lovely field Maple, Elder, Ash, Alder, Buddleia, Rowan Golden plum and Dog wood among others. In the centre is a large pond with a great number of frogs and both sorts of newts, smooth and the protected species of great crested. There are two benches for working at, a hide for sitting in and storing things in and small paths leading around the reserve. The main plants are nettles and black berry brambles with teasels, lemon balm, wood violets and a few primroses and other spring bulbs.
I have been running conservation activities since 2010 with the juniors and two terms with year 1 aged 6 years.
The activities we have done include:
Clay sculpting - hedgehogs and free style, nature spirits, bird bowls . . . .
Bird feeders from pine cones and margarine and string
Boats from recycled materials, bark and leaves and rafts tied together with wool.
A lot of pond clearing as we have much duck weed, pond identification with charts
leaf pressing, rubbing and bark rubbing
Drawing of our finds with water colour pencils
I try to pass on RESPECT for all Living creatures
To walk gently and quietly in the reserve (Its not big enough for running around)
To use all ones senses
To watch out for danger - water and nettles/brambles
We usually have a lovely time and I love it when the children show their excitement, intelligence, sensitivity, awareness and creativity.
Sept 2012 - TOPIC- Our local environment
Working with Year 2 children aged 6 today. We had 10 kids at a time filling up water tanks, scooping off duck weed and looking at what lay within. We found efts or juvenile newts with whispering red gills and small legs, we found black ramshorn snails, and leeches as well as many microscopic creatures such as water mites.
September - golden time year 3-6
7-11yrs old
Following a tree map of the nature reserve we gathered one leaf from each tree we could reach and placed it on a sheet of card marked with the trees name. We had such a lovely collection of leaves just before they turn colour. The Rowans had already started to go, and the blackthorn had lost over half of their leaves already. We then laid them flat to prepare for pressing and studying another time. We gathered field maple, hawthorn, blackthorn, dogwood, elder, silver birch. The alder was too tall to reach!
The pond is looking much quieter now and I wonder if the frogs and newts have found good places to hibernate. I sat in the hide after the year 2 session waiting for school to finish and within 5 minutes a squirrel had come out to eat the old apples I brought in, a pigeon too was taking a drink from the pond. So nice to see it slowly hopping around without a care in the world.
Juvinile newts are called efts and we have found a few in the pond in December. They will stay here all over winter whilst bigger ones will come out to hibernate.
This week we made a complete nativity set from clay, sticks, leaves, berries, cardboard and fabric - we all had fun.
WInter
The kids have had immense fun with ice making scupltures and seeing patterns and colours in the ice. They have drawn patterns in the snow with sticks. Other weeks we have made clay sculptures with bits of nature, wreaths and a nativity set before christmas. Each week we have made bird feeders from pine cones and margarine dipped in seeds - the following week all are eaten. We recently planted 25 trees - holly, hawthorn and roses, all gifts from the woodland trust.
Cold but fresh our days have been.
We have sculpted cal creatures mythical, magical and earthly. We have created stories from interesting sticks we found and imagined what they could become. We have made boats from old plastic tubs with leaf sails, and tied together sticks to make neat looking rafts that floated on the pond and were guided by attached strings. Have have continued to feed the birds throughout the season. We have studied buds and identified some. We have cleared a lot of brambles making way for spring bulbs.
Spring
Early spring 2014
spot the snowdrops, dafodills, primroses and wood violets, press the odd one in the flower press, look closely at the buds on the trees and try to identify them, See the hazel male catkins and touch them, Whihc blossom is out first? Is it the blackthorn?
February - A wet winter: When the weather was too cold and wet we made lavender bags and dried flower cards inside as mothers day gifts.
frogspawn at spring equinox, then they were tadpoles - nearly 1000 of them! and efts of course, By April came the duck weed and by May the abundance of Cow parsley. Not so many nettles this year 2013. We have cleared some of the mound and planted some wild flower seeds. They are very small as of may 22nd 2013. Some tadpoles have tiny legs. many daphnia, some water louse and leeches.
Autumn 2013
Looking at sloes, rowan berries, hazelnuts, eating yellow plums and black berries. Pond identification with the odd catch of newt and frog.
Den making, bird feeders, lining nests with wool and fabric, a new bug hotel, beautiful clay sculptures and mandala creations, leaf clearing from the pond, mulching of autumn leaves, nest making, bramble bashing to make more paths. Our biggest group this term 19 children. Many have been before - just 3 or 4 new year 3's aged 7 years old.
The Woodland Trust - kids activities
"http://www.woodlandtrust.org.uk/EN/LEARNING-KIDS/Pages/children.aspx#.UR0HG0LaafU"
The Wildlife Trust
"http://www.wildlifetrusts.org"
Journeys in the spirit - Quaker kids resources
"http://www.quaker.org.uk/journeyschildren"